Broughton Sanctuary, North Yorkshire - England's largest new woodland creation scheme in 2021
During the 2020-2021 planting season, the team at the historic Broughton Sanctuary – a privately owned 1,200-hectare site dedicated to nature recovery, rewilding and reconnecting people to nature – worked with the White Rose Forest, a founding partner of the Northern Forest, to plan and fund a 160-hectare woodland creation project.
This phenomenal undertaking was the largest new woodland creation project in England that year. Every tree that was planted is a vital addition to the growth of the White Rose Forest's community forest and the Northern Forest.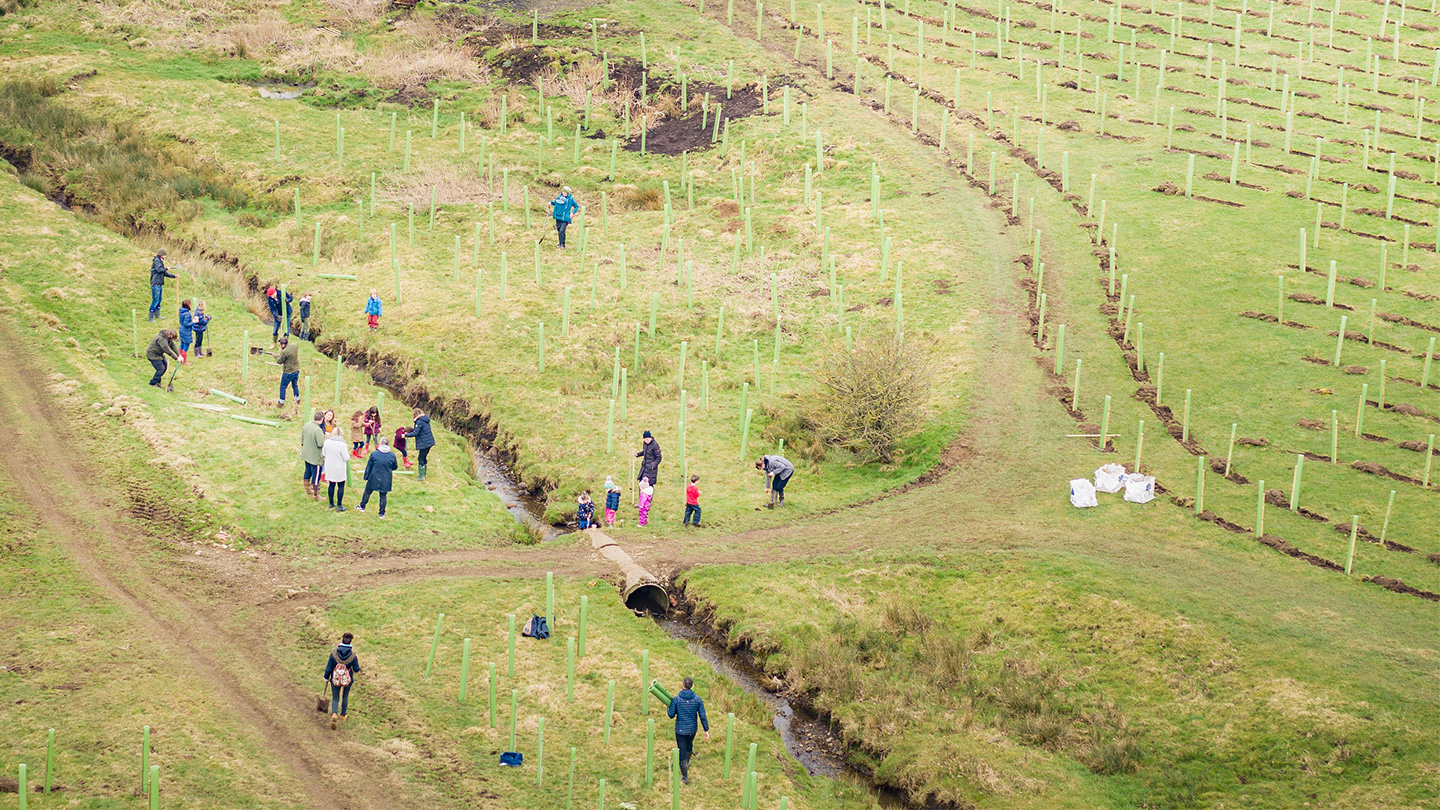 The new woodland created at Broughton Sanctuary contributes to the Government's 2030 nature recovery goals. Specialists and volunteers came together to plant 230,000 trees, including 15 different native species, such as ash, sycamore and hawthorn.
The project was funded via the Trees for Climate programme led by England's Community Forests – part of the Government's Nature for Climate fund. This endeavour has also benefitted from support from the Forestry Commission and Craven District Council.
Nature recovery at the Broughton Sanctuary
The creation of woodland at Broughton Sanctuary is the first part of an ambitious rewilding and natural regeneration project. The long-term view is to transform a third of the 1,200-hectare site into a much wilder state and increase biodiversity and wildlife.
Nature recovery work will include extensive natural regeneration of trees, scrub and grasslands, the creation and restoration of wetland habitats, and sensitive woodland management. In time, this area will be grazed by the rare breeds of cattle, pigs and ponies in addition to being a place for nature.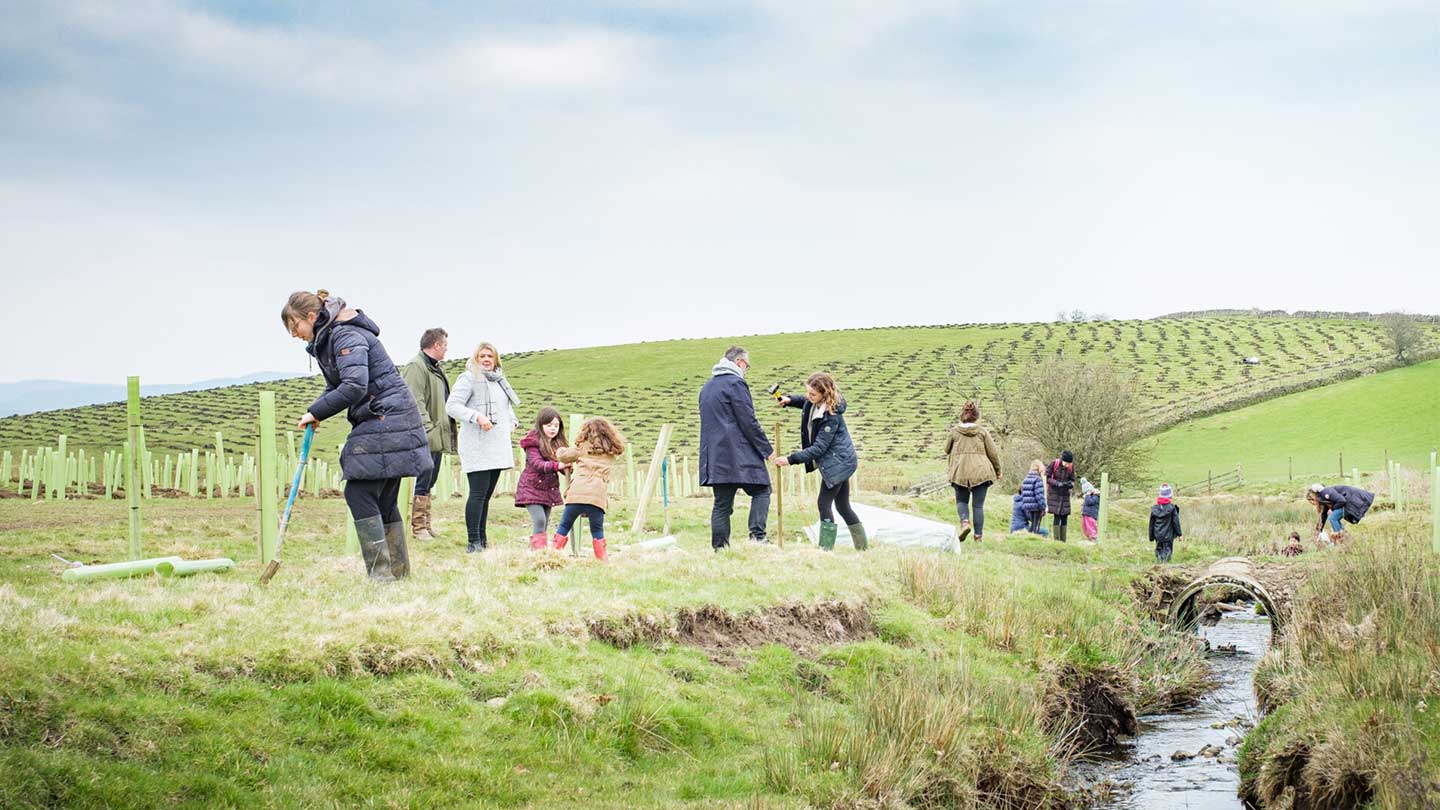 Benefits of new woodland at Broughton Sanctuary
Reduced flood risk
The new woodland forms part of the White Rose Forest's Landscapes for Water planting programme that aims to reduce flood risk for urban areas close to major rivers and waterways in North and West Yorkshire. It will also improve local water quality, biodiversity and recreation opportunities for local communities.

By slowing the flow of water runoff into local rivers, the trees planted at Broughton Sanctuary will help protect communities in the River Aire valley – from Skipton down to Leeds city centre – from the risk of future damaging flooding events. The project is therefore also strategically important within the Leeds Flood Alleviation Scheme led by the Environment Agency and Leeds City Council.
Increased biodiversity
New woodlands alongside natural regeneration will complement each other to provide habitats that increase the biodiversity of plants and wildlife. The low-impact grazing of livestock will open up the understorey so that more plants can thrive.
Carbon lock up
New planting can help fight climate change and contribute to the Government's target to reach net-zero carbon emissions by 2050.
Be part of the Northern Forest
Planting trees on your land can bring a whole host of benefits. Whether you're creating new woodland or extending or buffering existing sites, you can increase biodiversity, provide shelter, prevent soil erosion, reduce flooding and much more. You'll also be part of something bigger, contributing to the Northern Forest's ambitious aims and making a difference for people, wildlife and the environment across the North of England.