Smithills Estate - achievements and successes
At 1,700 acres, the vast Smithills Estate is the Woodland Trust's largest site in England and an important part of the Northern Forest. Situated in Greater Manchester it contributes to Greater Manchester's Community Forest, City of Trees, one of the Northern Forest's core partners. The different habitats have been subjected to a variety of uses over hundreds of years, so a site of this size and complexity requires careful planning and maintenance.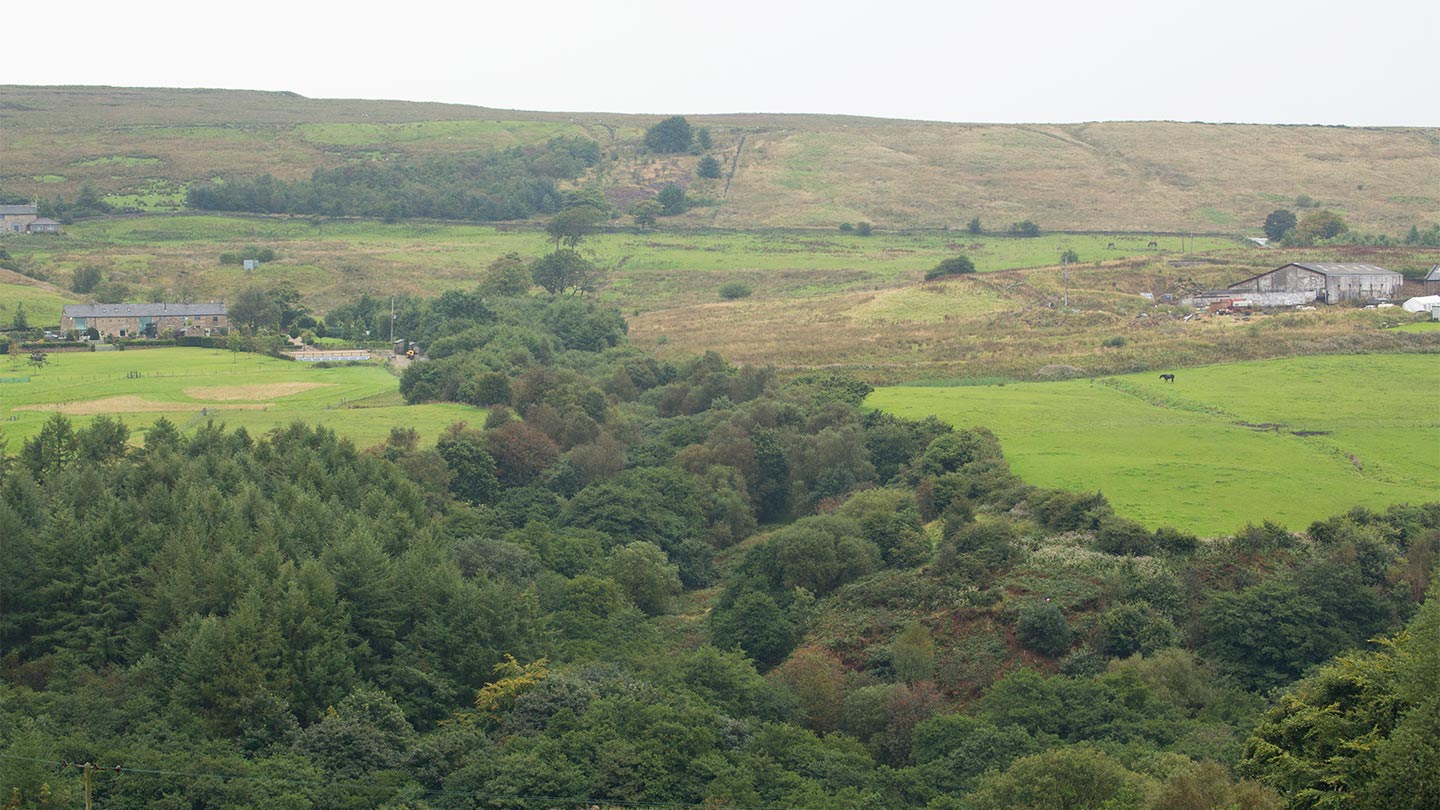 We're taking care to ensure that the right trees are planted in the right place, and the right management practices are undertaken, to help the area remain resilient in the face of changes and provide a home to biodiversity. We explore what has been achieved and the impact of those successes so far.
Smithills Estate today
The site is a mosaic of grassland, farmland, moorland, wooded ravines and bog habitats, crisscrossed by dry stone walls, with panoramic views over Bolton to Manchester. It encapsulates many of the habitats found across the whole of the Northern Forest in just one site.
Having been used for agriculture, coal mining, stone quarrying, reservoirs, and a tile works in the past, it's a great example of how different land types can be transformed for nature - Smithills Estate is now an important refuge for people and wildlife. Although it provides a haven for so many, the site is managed to help find a balance with a productive environment for tenant farmers who still work land here too.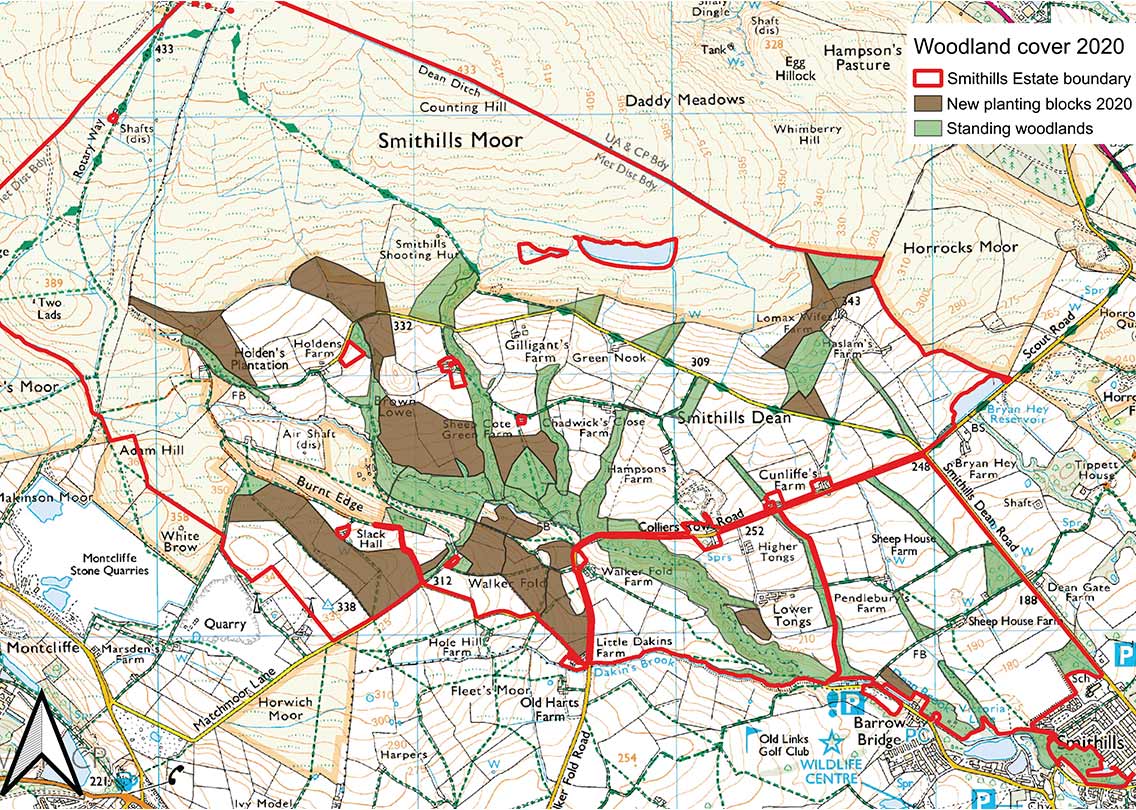 Planting new woodland at Smithills Estate
Over 90,000 trees have gone into the ground at Smithills, including some of the first trees planted for the Northern Forest in 2018. Species include birch, hawthorn, rowan, buckthorn, aspen, elder, oak, Scots pine, yew, juniper, and various species of willow. Targeted planting has taken place to put the right trees in the right places. A broadleaf mix has been established in the lower estate, with planting transitioning to a scrubby heathland mix, moving up the estate, as the elevation changes. The new trees will buffer ancient woodland and improve landscape connectivity for wildlife by joining up woodland fragments. Another 30,000 trees will be planted over the next year.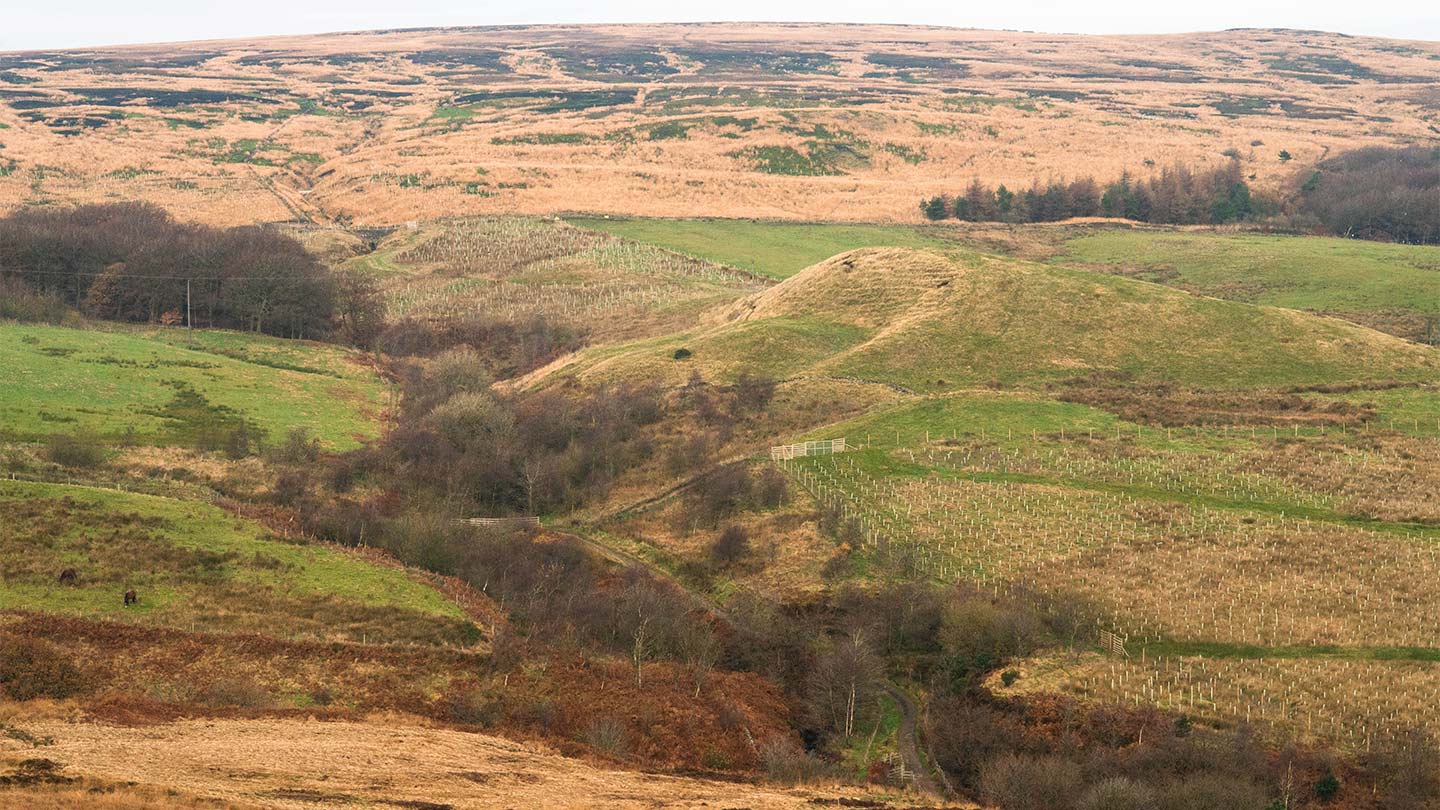 In response to a plant health notice for Phytophthora ramorum, we have had to fell some of the existing stands of larch, bringing forward our restoration project plans for the area. The larch will be replaced with birch, Scots pine, and shrubs to simulate natural recolonisation. After 20-30 years this area will be thinned, and then more broadleaf species will be introduced to create a diverse structured woodland capable of supporting a range of flora and fauna.
Other ongoing work that benefits Smithills Estate
We are working with Liverpool University and The Mersey Forest to investigate the use of leaky dams. These pioneering solutions can help the moorland retain water, increase biodiversity and reduce the fire risk during the warmer months, while helping to prevent flooding in downstream urban areas.
Moorland, important for carbon storage, water catchment, and specialist wildlife, is being sensitively managed to minimise the impact of grazing.
In new planting areas, cattle and sheep are being brought on-site to help create woodland pasture, an important open habitat within a wood. Ancient woodlands are not grazed.
Listen to our podcast to learn more about Smithills Estate's role in the Northern Forest.
Benefits of planting new woodland at Smithills Estate
Reduced soil erosion, increased water retention and contributing to biodiversity
Traditionally timber crop conifer woods need a drier site, so water is lost quicker and there is more soil erosion. Replacing this with the broadleaf mix increases water retention, mitigates downstream flooding, and supports more ground flora. Historically, water has been removed from the site for industrial purposes, but by keeping water in the site we reduce the risk of fire. Increasing the water levels allows for new wetland habitat creation to be considered on-site too. All these activities contribute to the biodiversity goals of the site.
Increased connectivity, genetic diversity, and biodiversity
Creating a continuous corridor from the top to the bottom of the site, while connecting the existing woodland areas with new planting and hedgerows, creates a "great wood" and habitat corridors for wildlife to move freely across the site. This in turn increases interactions and creates a bigger gene pool, rather than one that is confined to one area. This not only increases biodiversity within the habitat but also allows for disease resistance to be retained and increased in the existing woodland blocks, reducing the impact of pests and disease. In addition, the planting of a variety of tree species introduces structure to the habitat, providing opportunities for both animal and plant species.
Carbon lock-up
Along with creating opportunities for flora and fauna to flourish, new planting can help tackle climate change and generate income in the form of carbon credits. The trees planted at Smithills Estate could offset a city centre's-worth of carbon emissions.
Be part of the Northern Forest
Planting trees on your land can bring a whole host of benefits. Whether you're creating new woodland or extending or buffering existing sites, you can increase biodiversity, provide shelter, prevent soil erosion, reduce flooding and much more. You'll also be part of something bigger, contributing to the Northern Forest's ambitious aims and making a difference for people, wildlife and the environment across the North of England.